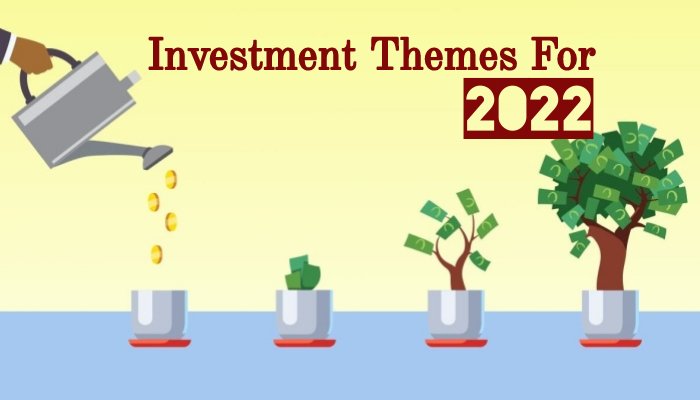 Investment Themes for 2022
While investors look at their financial advisors/agents as the Alladin Ka Chirag; however, our primal responsibility is to present a bigger picture and a peak into sectors as to how you should look into the broader things happening before taking an investing call; and then enabling them to do it. But remember, there is the separate science that kicks in – the behavioral finance which knocks off every logic once the investor misses to see the bigger picture.
Here, I have taken a few of my favorite sectors:
Electric Vehicles (EVs)
This is the most cherished segment of all ( To view our DIGITAL & EV trend Portfolio, click here )and everyone is just trying to get on this bandwagon; picking up stock from Fiem Industries (Click to view our recommendation here) to Gabriel (Click to view our recommendation here). Some of the old-time investors are looking for some known existing stocks that they can float on while minimizing the risk; for them, ARBL (AMARA RAJA BATTERIES) appears a beacon of hope.
ARBL is setting up a 100 MW HOUR Lithium-Ion battery plant in Andhra Pradesh. It has already launched e-rickshaw (three-wheeler) batteries and started supplying them to OEMs. Further, it has also started supplying chargers to BPCL and is in the process of developing board chargers for 2Ws and 3Ws. ARBL has also opened an Advance Lithium Technology Research Hub, with a pilot plant facility for a cell development project, based on the technology transferred by ISRO. (To view our latest recommendation on AMARA RAJA BATTERIES, Click here)
On the lithium-ion front, Exide continues to invest in its subsidiary, Exide Leclanche Energy, and work on developing batteries for EVs. It is also in the process to set up the first lithium-ion battery cell manufacturing facility in India called Advance Cell Chemistry Project (ACC). (To view our latest recommendation on EXIDE, Click here)
In terms of valuations, ARBL is now trading at 13.1 times FY23 projected earnings. Exide is trading at 14.3 times FY23 projected earnings. ARBL and Exide are trading at a 39 percent and 25 percent discount to their 10-year average valuation, respectively.
We advise investors to accumulate these stocks for the long term.
Infrastructure & Construction:
Infrastructure is the only sector, which if works at full throttle enables many other sectors to grow, leads to economic growth, job creation, etc. The Government is doing everything it can on the Capex spending, which would span to the construction stocks.
Under National Infrastructure Pipeline, the government will be spending INR 111 lakh crore with roads, railways, irrigation along affordable housing being the key growth areas.
As PM Gati Shakti Programme, would bring all the ministries concerned on one platform, where they will have real-time data of projects under execution as well as new projects; this would ensure better planning and coordination among various departments, enabling smooth project execution and avoiding delays.
This would lead to better RoI (Return on Investment), RoA (Return on Assets), and RoE (Return on Equity) on the company stocks involved.
Also, the government is considering measures such as the transfer of land compensations directly to the beneficiary account rather than routing it through the district-level machinery. This would ensure faster commencement of projects. This would lead to beneficiaries going for further purchase of land and hence, the turnaround time for the compensation money going further into the purchase of land would be shortened, which thus give impetus to the real estate.
Generally, 70% – 80% of the money received is further invested by the beneficiaries into the land; as traditionally they have been farmers and the land is the only asset they understand while investing.
Construction companies have a strong order book of 2.5-4.5x revenues, which gives healthy growth visibility. Most companies have guided for healthy order inflows, given the government's focus on infrastructure.
However, in the case of rising interest rates beware of highly leveraged companies. In this context, stick to strong picks, having strong execution record and a healthy balance sheet (debt: equity close to 1x), which would enable them to take full advantage of the huge spend in infrastructure.
(To stay tuned for regular stock technical updates, click here & subscribe us now! )
China + 1 Policy: Can be a boon for India
Pandemic has led the global supply chain managers to pursue China + 1 policy to diversify their sourcing base. Now, as the government is pushing the Production Linked Incentive (PLI) scheme in electrical, electronics, textiles, bulk drugs, mobile handsets, chemicals, automobiles & auto components; what would see would be a multi-decade growth as we saw in IT and Pharma in previous years.
METAVERSE – Sectors looking at disruption
With metaverse, I would say that the disruption has just started; and it would impact a whole lot of sectors. As India has over 67% of the population within the 15–64-year age bracket, this is going to be the hottest market that every company would like to capture. With retail being the first sector to be impacted, it would soon catch up in auto, gaming, media and whatnot.
Imagine your son or daughter completing their assignments in a metaverse classroom, or you wishing to test drive your latest AUDI without wanting to get out of the comfort of your home and that too with 100% actual real-life experience.
Have you identified some scrips in this space?
Conclusion
Have your asset allocation right, streamline your portfolio in sync with the broader macro and micro landscape. Make gradual and balanced allocation and be relaxed.
Do not check your portfolio every day in the morning. Follow the process, the results will come. Remember it takes 9 months to deliver the baby. Once rebalanced your portfolio, let it grow and give it time.
Stay Healthy, Happy & Prosperous. Have a great New Year ahead.